KNOW YOUR BUILDING:
Locate People & Assets

REAL-TIME

LOCATING SYSTEM (RTLS)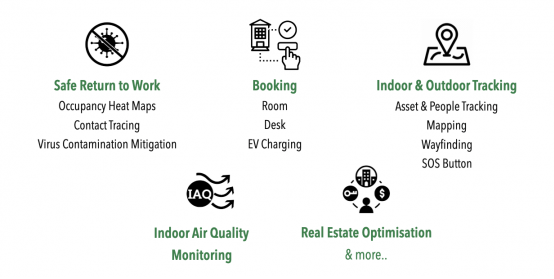 What is RTLS?
 A cutting edge solution, utilising a hybrid wired/wireless latest technology, to help clients protect their
staff, monitor products, assets and facilities, and increase productivity whilst reducing costs by up to 14%.
The CoolSúil-IoT RTLS technology is used for location-based services for indoor positioning. Our technology
provides superior centimetre accuracy and real-time tracking of people and assets using tags & devices
through unique direction-finding methods and advanced proprietary algorithms. Sensors and tags are
utilised and tracked with high accuracy by our indoor position engine, and this precise data fed into
applications suitable to the relevant industry.

 Advanced antennas, the Locators, measure the direction of a radio signal transmitted by a Tag. The    Positioning Engine then computes the Tag's position using advanced algorithms.
Key Benefits
 Real-Time Superior Accuracy & Reliability: Positioning accuracy of the system is around 0.5m (2ft)
Compatible: Track any Bluetooth Low Energy device that is transmitting a specified radio pocket

Open Tag Design: Choose between multiple ready-made tags or design your own tag

IoT Gateway: Can be used as a gateway to IoT, receiving and exposing data from Bluetooth sensors

Open API: Easy to integrate into existing systems with pull or push APIs, fully open and easily configurable

Long Battery Life: Tag can transmit one packet per second 24/7 for three years

Maintenance-free: The system constantly monitors itself, requiring slight to no physical maintenance

Interference free: Uses advanced proprietary algorithms that make it a very robust and reliable solution
What's More?
Industry 4.0/Smart Building Enabler

Improve OEE Efficiency
Applications -

Different Industries
(Please click on different industries to download relevant flyers)
Safe Return to Work                                                         Access Control & Density Policy Enforcement
Contact Tracing                                                                Real-Time Management of Hazards
Asset & People Tracking & more..                                    SOS Button & more..
Hand Hygiene Compliance                                              Workers Safety (using Smart Badges)
Patient Wayfinding                                                           Construction Machinery Use Monitoring & Maintenance
Nurse Call Bedside Button & more..                                Parking Management & more..
Sanitisation of Shared Assets                                          Rack Level Tracking
Temperature & Humidity Monitoring                                Access Control & Density Policy Enforcement
Restricted Area Access Notifications & more..                Temperature & Humidity Monitoring & more..


What Makes CoolSúil-IoT RTLS Unique?..

End to End 
 As independent Master Systems Integrators, McCool's not only provides the RTLS Hardware and Back End
Software but also complimentary Third Party Sensors/Tags, other Communications Protocols & Control
Systems, Applications, Data Analytics, Installation, Commissioning and Systems Integration including
Integration with Client's own Apps.