CoolSúil-

Build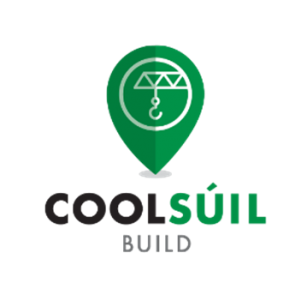 Providing End-to-End Technology Solutions

 

Enhancing
Construction Safety, Efficiency

and

 Productivity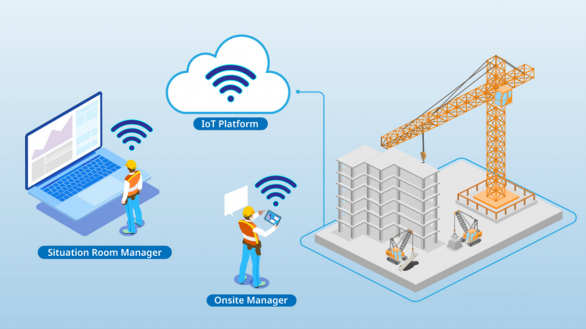 CoolSúil-Build delivers state-of-art technology solutions for construction sites based on latest IoT technology
for connecting sensors, smart lighting, RTLS technology for geofencing and material/equipment tracking,
predictive maintenance for improved equipment operation along with smart construction web applications
and enterprise integrations.
Why CoolSúil-Build?
Worker Safety

Reduce Costs

Expedite Concrete Pours and General Building Program

Improved Resource Management and Workflows

Measure Labour Resources Against Sub-Contractor Commitments

Better Reporting and Predictive Maintenance

Cut Waste and Equipment Theft

Meet 2030 Climate Goals

Data Driven Planning and Implementation

Aids Considerate Contractor Compliance
Key Features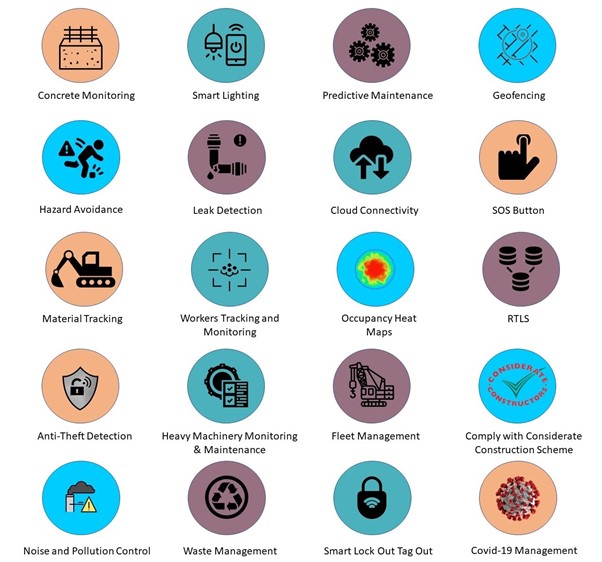 (Click Here to Download CoolSúil-Build Brochure)
RTLS AND IOT APPLICATIONS IN
CONSTRUCTION INDUSTRY
Concrete Monitoring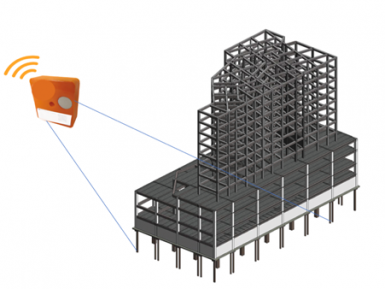 CoolSúil-Build wireless concrete sensors monitor concretes condition during casting and drying at construction sites. The sensor is installed before the concrete is cast and it measures near real time temperature, pressure, relative strength thereby optimising construction time and avoiding poor quality costs. The sensors communicate via Long Range Low Power wireless signals offering long battery life and installation flexibility. The data from the concrete sensors is sent to cloud giving information about strength of concrete, curing index, drying status etc.
Monitoring Temperature, Strength and Humidity

Condition-Based Monitoring

Measures Curing Index

Drying Prediction

Minimising Quality Cost

Applications: Concrete Casting, Vaults, Floors, Walls, Pillars

Make Shuttering, Casting, Drying, Pouring Decisions Based on Real-Time Data
PoE Smart Lighting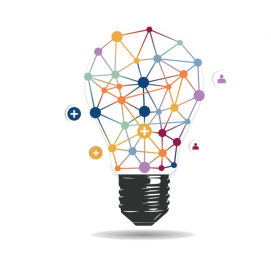 We offer PoE (Power over Ethernet) smart lighting at construction sites that reduces energy usage through automated controls. It enables real-time monitoring of emergency lighting. With safe extra low-voltage, PoE infrastructure reduces the dependency of electrician for temporary lighting. CoolSúil smart lighting improves safety, quality and reduces delays on-site and allows workers to adjust the lighting levels for a specified task.
PoE Construction Grade Lighting
Energy Efficient
Real-Time Monitoring of Emergency Lighting
Safe Extra Low Voltage
Adjust Lighting Levels to Suit the Required Tasks
Automatic Control Based on Presence and Daylight
Reduces Ongoing Installation and Modification Costs by Skilled Operatives
Aids Climate Considerate Contractor Compliance
Workers' Safety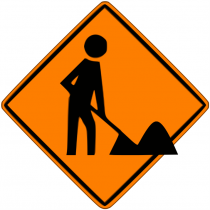 CoolSúil-Build IoT devices boosts the safety of workers at construction sites. Geofencing technology helps in identification of hazardous zones thereby reducing the risk of accidents on sites. CoolSúil-Build smart badges with SOS buttons can be worn by workers that helps in avoiding collisions with heavy machinery and maintain safe distance between employees. The device comes with proximity detection tags that helps in identification of potential Covid-19 virus contamination zones. IoT sensors helps in risk monitoring around scaffold, cranes, poles etc. by measuring any displacements, pressure, tilts thereby ensuring safety of workers against them.
CoolSúil-Build Smart Lockout Tagout tags offer near real-time monitoring of LOTO tagged power supplies. 
Geofencing Hazard Area

SOS Button for Operatives with Location

Hazard Identification and Avoidance

Verticality Monitoring (Cranes, Poles and Scaffolds)

High Temperature Early Warning Alerts

Virus Contamination Hot Spot Identification

Smart Lockout Tagout with Real-Time Monitoring

Wireless Housekeeping Push Buttons to Allow Operatives in Identifying Problems
Real-Time Site Maps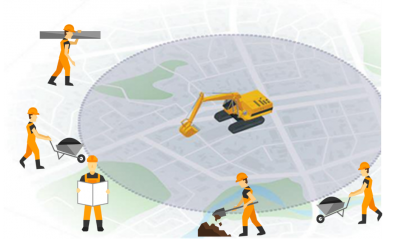 We offer Compact Trackers and Micro Trackers with embedded IoT sensors and beacons that creates real-time digital maps of construction sites highlighting danger zones, hazardous environments, number of workers on-site and work in progress areas. With the real-time location accuracy, our system can detect when vehicles or workers are getting close to one another and trigger the alert when within a predefined distance. This, in turn, helps make construction sites more predictable, easier to control, and safer for workers.
Identify Site Inefficiencies and Covid-19 Risk Areas
Find Plant and Tools Quicker
Improve Profits Through Expedite Program
Real-Time Management of Hazards
Digital Twin Maps for Hazardous and Danger Zones
Geozone Detection
Indoor and Outdoor Asset and People Tracking
Occupancy Heat Maps
IoT Tags for Collision Avoidance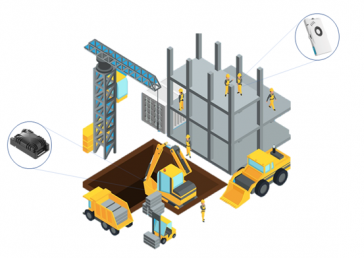 CoolSúil-Build IoT construction tags are deployed on construction vehicles, moving equipment and near hazards along with wearable smart badges for workers. Workers can be alerted to potential collisions with a visible and audible alarm preventing accidents on job sites. An easy-to-use SOS button is embedded on smart badges that workers can push when they need emergency assistance.
Worker's Safety Using Smart Badges
SOS Buttons with Automated Alerts
Collision Avoidance with People and Vehicles
Evacuation Alerts
Heavy-Machinery Monitoring and Predictive Maintenance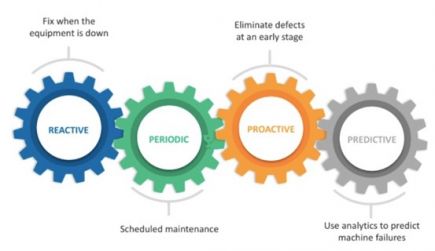 We offer Predictive Maintenance sensors deployed on heavy construction machinery and plant giving alerts on the operating status of machines. It prevents machine failures and reduce downtime with the power of Artificial Intelligence and connected IoT objects. From scheduling maintenance stops to turning off idle equipment – IoT devices enables an improved efficiency in the management and maintenance tasks at large scale construction sites.
Predictive Maintenance

Heavy Construction Machinery Monitoring and Maintenance

Fleet Management
Security and Anti-Theft Detection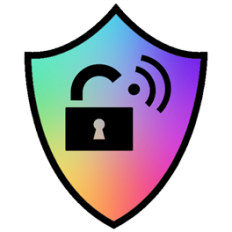 We offer Geofence and GPS trackers to help improve security.  Geofence technology provides alerts to any unauthorized movement of construction equipment and helps locate and recover any stolen equipment. Geofencing helps in asset tracking. It alerts when a vehicle enters or moves out of a monitored area thereby avoiding any equipment loss.
Equipment Traceability

Digital Lockers

Anti-theft Detection

Identify Unauthorised Presence On-Site Out of Hours

Monitor Open/Close Status of Doors, Switch Room Entries etc.
IoT Dashboards and Analytics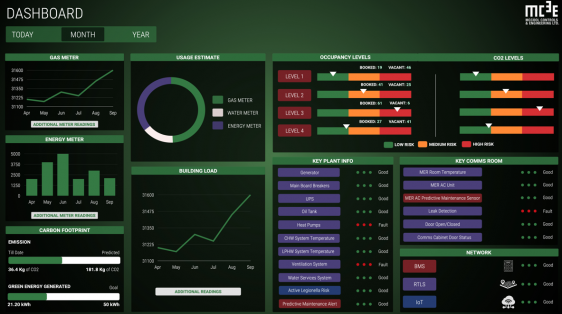 IoT dashboards with embedded analytics can be created using RESTful API to analyse data and then visualize key site metrics on dashboards. IoT brings value to an organisation in the form of useable data. Data collected from IoT devices including:
Energy

Noise

Pollution

Bin and Skip levels
can be shared amongst stakeholders, allowing teams to make more informed decisions. Companies can then use this real-time data to drive continuous improvement for greater efficiencies, to generate greater profits and for better forecasting.