MC3E PRODUCTS
SMART LIGHTING - A SMART SOLUTION FOR THE SMART GENERATION
PoE Lighting is a simple yet advanced way to concurrently power and control lighting, whilst creating a digital
smart building.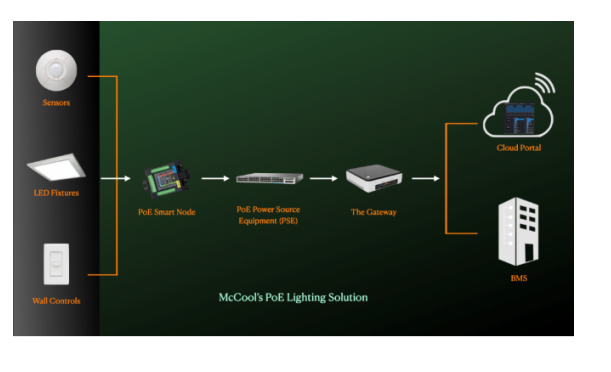 How it Works
PoE Smart Node: PoE device powering LEDs, taking in sensors, switches and other data. Ability to connect
non-IP devices to turn any off-the-shelf device into a PoE- enabled smart device.
Gateway: Server monitoring and controlling PoE nodes and facilitating enterprise integrations. Communicates
with cloud portal to record data and system configurations for daily backup, analytics and insights.
Cloud/BMS: Connects to site BMS, McCool Cloud or 3rd party data analytics. Open API makes it ready for AI
as well as open to any compatible enterpise integration.
Benefits
Open to Everything: Allows 3rd party application integration, such as Asset & Inventory Tracking, Occupational Usuage Reports, Room Scheduling, Air Quality Monitoring and more
Advanced Lighting: Includes White Tunable Lighting to Mimic Circadian Rhythms, Daylight Harvesting Controls, Custom Scenes via Wall Controls and more to enhance Occupant Comfort
Real-time Data: Transparency and immediate feedback
Advanced Security Measures: Such as Compartmentalisation and Application Keys for a secure IoT platform.
What's More?
Node powers LED and has Field I/O Points
Simplified Installation - Reduced Cabling and Infrastructure
Safety - Reduced risk of fire or shock compared to AC